Welcome to the Upper Peninsula Chapter of the Michigan Credit Union League's webpage!
---
2015 UP Chapter of Credit Unions Annual Charity Golf Outing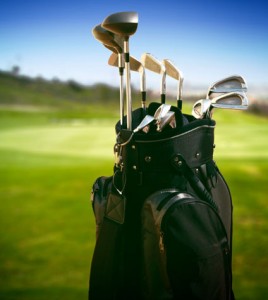 The 2015 UP Chapter Golf Outing was held at the Terrace Bay Golf and Country Club in Gladstone, MI on August 27, 2015.
2015 Managers Conference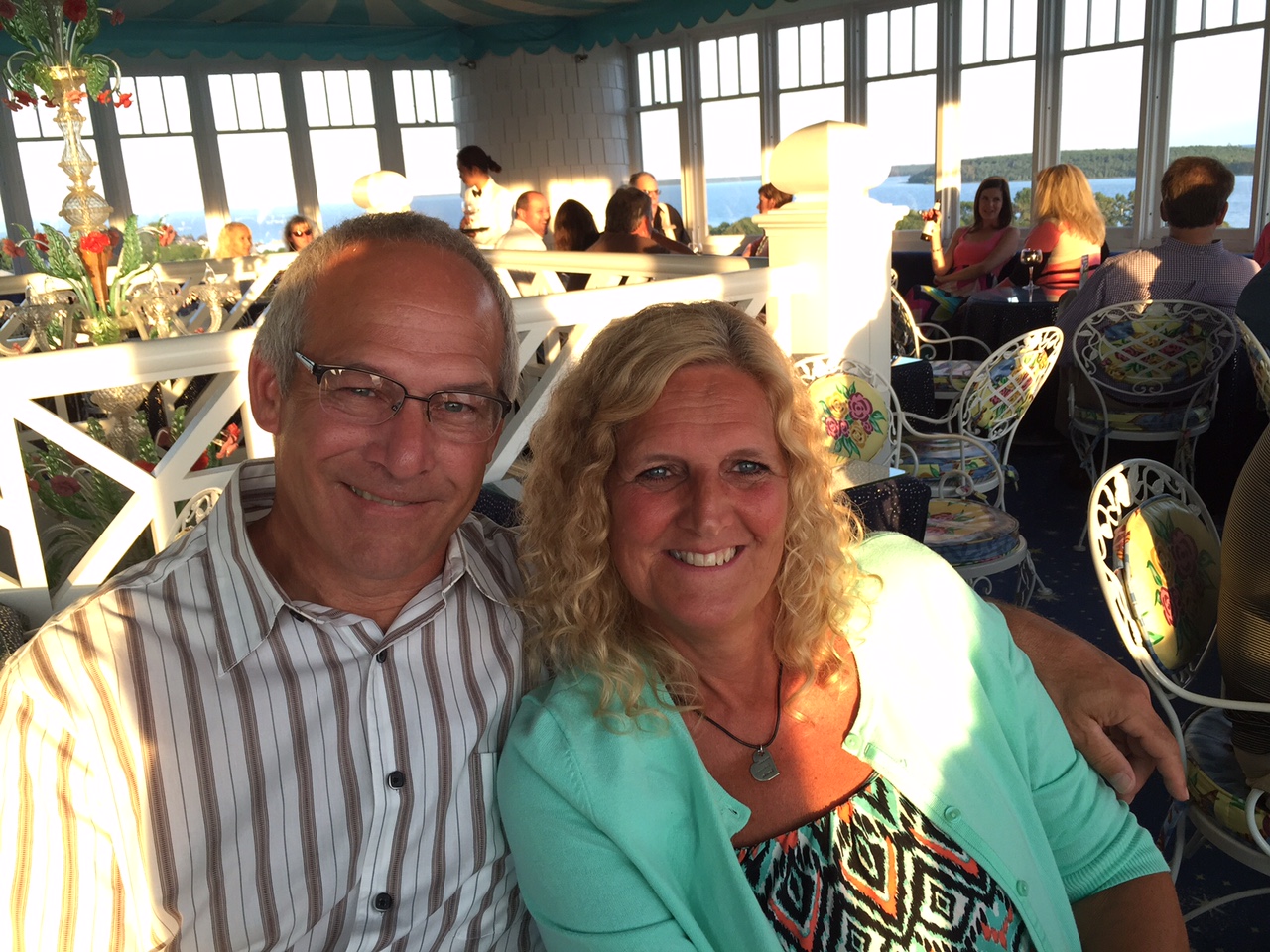 The 2015 U.P. Chapter Managers Conference was held on August 5th and 6th 2015
U.P. Chapter Annual Meeting Exposition Highlights
The 2015 U.P. Chapter Annual Meeting was held April 17-19 at the Island Resort and Casino, Harris, MI. Thank you to everyone that attended.
Upper Peninsula Credit Unions Support Beacon House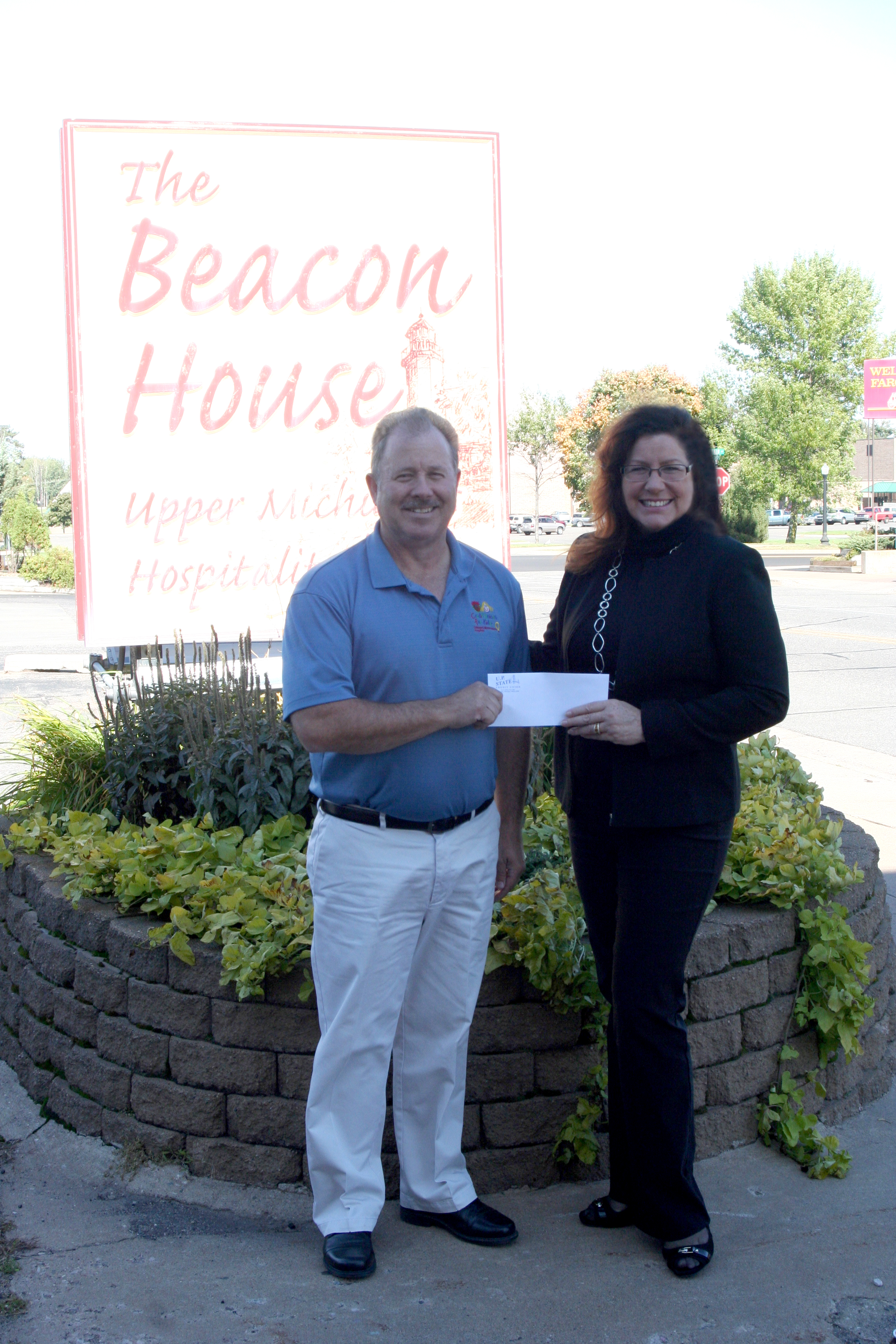 Photo Caption: Richard Gatiss (left), representative of the UP Chapter of the MCUL presents Beacon House Chief Executive Officer, Mary Tavernini Dowling (right), with a donation raised during the UP Chapter's annual golf outing.
The Upper Peninsula Chapter of the Michigan Credit Union League recently donated $5000 to support Beacon House operations. Beacon House is the U.P.'s only hospital hospitality house.
The funds were raised during the Chapter's annual golf outing. Chairs of the event, Richard Gatiss of the Upper Michigan Community Credit Union, Karen Dahl, from Northern United Federal Credit Union and Erik Bessonen of the Delta County Credit Union, indicated that this was the sixth charity fund raising outing that the group has held. "This donation was made possible through the generosity of our sponsors and our golfers who've taken the time to participate in this annual event," indicated Gatiss. "We were pleasantly surprised at the event's success and the support our golfers gave to the effort." Thirty credit unions are part of the Michigan Credit Union League's U.P. Chapter.
"We are so thankful that Beacon House was chosen as the beneficiary of this year's outing," stated Mary Dowling, CEO of the organization. "Each group that lends its support to Beacon House, helps ensure that patients and their families seeking medical treatment in Marquette County have a place to stay, should they need it. Every donation helps."
Beacon House, an independent 501(c)(3) non-profit charitable organization, provides lodging and hospitality services for patients and their families traveling to Marquette County for medical care. The 34 room facility's operation is dependent upon contributions from individuals, groups, families, corporations and foundations, with housing provided to guests on a donation basis. For more information on Beacon House visit
www.upbeaconhouse.org
.
---
---
Committee Information
Click HERE for a current committee roster.
Chapter Leader's E-mail List Serve - Sign up today
MCUL & Affiliates Event Planning
Michigan Credit Union League - Chapter League Representative
Darl Mclean
Darl.McLean@mcul.org
800-262-6285 ext. 760
This is your site, so visit often - and keep in touch with what´s happening in the Upper Peninsula Chapter.
---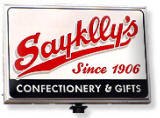 Click the Sayklly's Picture for Ordering Information
---