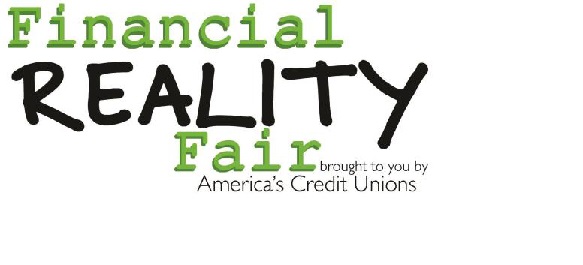 REALITY FAIRS
The Upper Peninsula Chapter and the Michigan Credit Union Foundation provides support to help credit unions, and credit unions working with community groups hold Financial Reality Fairs for teens in their communities. These fun and fast-paced interactive sessions can make a lasting impact on the financial understanding of participants.
Several Financial Reality Fairs were held in the Upper Peninsula, some hosted by a single credit union, and some hosted by several area credit unions working together. Overwhelming positive feedback from the teen participants, teachers, parents and fair volunteers confirms that this activity is needed and appreciated. These fairs are not only doing good, they are getting noticed. Check out the video link on this page to see how the fair works and to see the great news coverage of a recent fair that the Flint Chapter held: http://www.mcul.org/foundation-grants
The Upper Peninsula Chapter now has a set of materials available for use. Our goal is to hold many more fairs in the future to show the community the credit union social mission in action. The chapter, along with the foundation, provides assistance which includes training and access to the Financial Reality Fair program, program materials and booth/station signs. Additional financial assistance for other program materials and costs may be available from MCUF grant funding.
The Financial Reality Fair is a 2.25 hour (approximate time), hands on experience where students, after identifying their career choice, are provided a budget sheet requiring them to live within their monthly salary while paying for basics such as housing, utilities, transportation, clothing and food. Of course, there are many temptations for additional spending and students must learn to balance their wants and needs to live on their own. Students will balance their budget and review their standing with a Financial Counselor. The Fair is a unique opportunity for each student to experience some of the financial challenges they will face when they start life on their own.
Please see the attached flyer for more information and requirements. Complete guidelines, communication templates, training and guidance will be provided to credit union hosts. Please email our U.P. representative, Kim Kareckas (kkareckas@peninsulafcu.com) for more specific details and available dates on holding a Financial Reality Fair. For more information on grant availability to cover costs, please contact the Executive Director of the MCUF, Beth Troost (Beth.Troost@mcul.org)
Go to main navigation